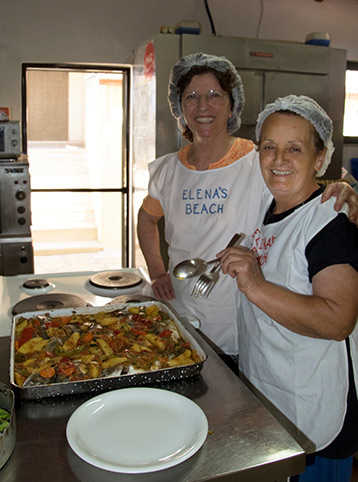 Mediterranean
cuisine
The pure raw materials from the local suppliers are the base of our homemade cuisine: virgin olive oil, fresh fish from the neighbor fisherman, fresh bread, prime meats, fresh vegetables and abundant supply of home grown spices and herbs.
We serve wholesome tasty food of honest value for your money.
Even plain spaghetti tastes great at Elena's beach camping
Katerina's
Kingdom
For more than 30 years, Queen Katerina cooks Greek authentic traditional recipes for the wide international family of our campsite. With her experienced assistants, they prepare the most delicious dishes for you from greek cuisine. Taste the most amazing moussaka, lamp in the oven, spinach pie, grilled fish, fresh tzatziki and garlic-potato sauce, and so many other dishes.